The AQUAOSO map has numerous layers of data grouped under National, State, and Customer-Specific headers.
From the AQUAOSO home screen, click on the "Research Tool" tile: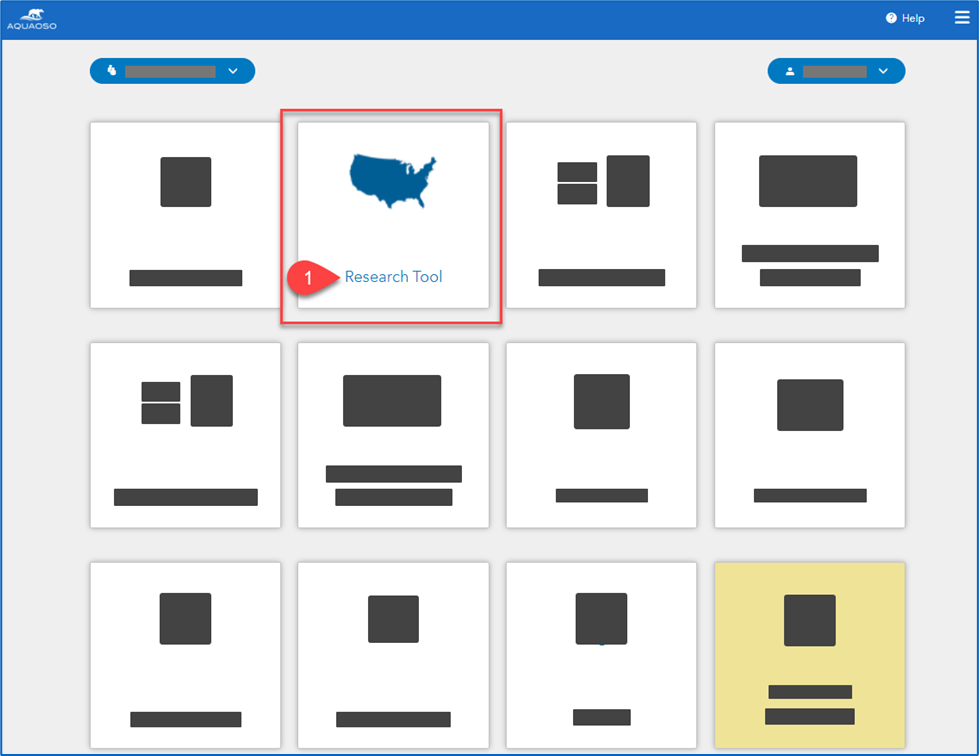 You can identify properties of interest, including collateral in your lending portfolio, by drawing an area of interest on the screen. The Search Result panel will pop up on the lower portion of the screen if there are parcels in the Lending portfolio, either within or crossing the boundaries of the polygon/square/circle shape drawn on the map.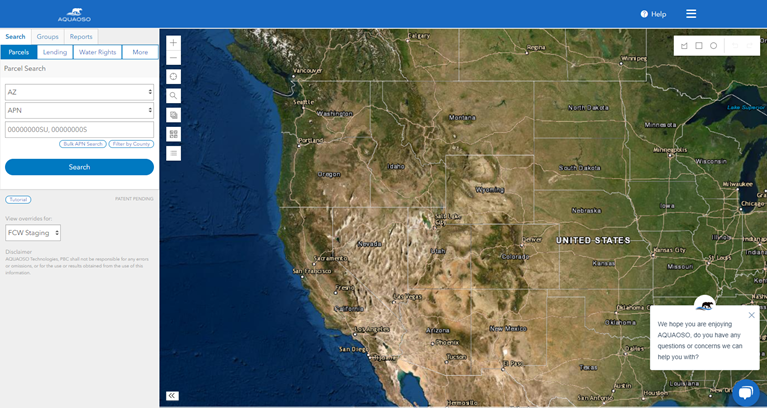 The map takes up most of the screen and will dynamically adjust as the user enters search criteria and selects search results. There are 7 buttons in the upper-left corner of the map that allow you to control the map:
Zoom In
Zoom Out
Find My Location
Search by Address
Map Layers – display like data boundaries, soils, crops, wildfires, etc.
Change Basemap – controls the underlying image of terrain
Legend – defines the meanings of the colors/symbols in the Map Layers
How to use the Map Layers:
Click the Map Layer button in the upper-left corner of the map
There are numerous layers of data that can be turned on and off . Layers are grouped under National, State, and Customer-Specific headers.
See the AQUAOSO Data FAQ for a full listing of all data layers.
National Map Layers include information such as:

Parcel Information & County Boundary & Township-Section-Range (PLSS)
Critical Habitat (Endangered Species)
Crops, & Soils
Fire History, Active Wildfires, Hourly Air Quality Index, & Smoke Forecast
Groundwater Depth, Surface Water, National Flood Hazard, & US Drought Monitor
Customer-Specific Layers, dependent upon your organization's specific subscriptions and integrations, may include info such as:

Portfolio APN Boundaries
Comparable Sales Record Indicators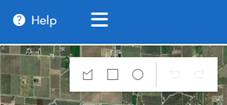 You can use the "Draw to Select" tools found in the upper-right corner of the map to identify loans in your lending portfolio that fall within the boundaries of a polygon, square, or circle.
Search for collateral using the Polygon

Once the Polygon tool is selected, the first click on the map will start the drawing. Continue to single-click around the map to place more points. To complete the polygon shape, either double-click anywhere or click on first point.
Example: The following screenshot simulates drawing a polygon around the parts of Tulare County that were forecasted to be heavily impacted by smoke.
Example: The following screenshot was created by turning on the Portfolio layer and the Wildland Fire History layer simultaneously to identify collateral parcels that were in close proximity to a risk event.
Example: The following screenshot was created by turning on the Portfolio layer and the US Drought Monitor layer simultaneously to show that collateral parcels are currently experiencing differing levels of drought intensity.
Tip: Data layers use certain colors and patterns that might be easier to see clearly when placed upon different basemaps. In some use cases, you may prefer to use the default , and in some cases you may get better results with a basemap that has a darker or lighter contrast.
Tip: You can also adjust the Opacity and Layer Order by clicking on the button with 3 small dots next to each Map Layer: